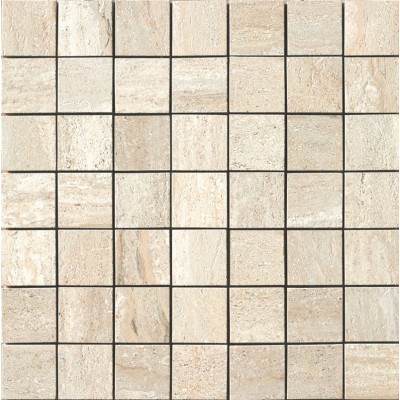 Travertini Matte 2X2 Mosaic Floor and Wall Tile 17X17 Beige (1 Piece)
Brand:
Capri
Model #:
1037075
Price: $34.58
This Serenissima mosaic tile is from the Travertini collection, imported from Italy. The material used in the Travertini collection combines beauty and versatility in order to produce surfaces that are not only environmentally friendly, but are able to enhance any room and to last forever. These tiles are available in 4 neutral colors, as well as in mosaic and intreccio weave designs. It's perfect for both wall and floor tiling to give the surface of our living spaces an elegance and a contemporary, natural feel. Serenissima tiles are durable enough for heavy pedestrian traffic, are resistant to stains, and are both frost and thermal shock resistant. This matte mosaic tile is 17" L x 17" W and comes in the color Beige. The mosaic tiles are 2" L x 2" W.

•Travertini Italian tile joins the elegance of natural stone with the latest generation of ceramic technology
•Perfect for both floor and wall tiling
•Mosaic pattern 2" L x 2" W
•Durable enough for areas with heavy pedestrian traffic and are resistant to stains
•Resistant to frost and thermal shock
*Dimensions( in )
*Weight( lbs )
Write a review
Your Name:
Your Review:
Note: HTML is not translated!
Rating:
Bad
Good
Enter the code in the box below: